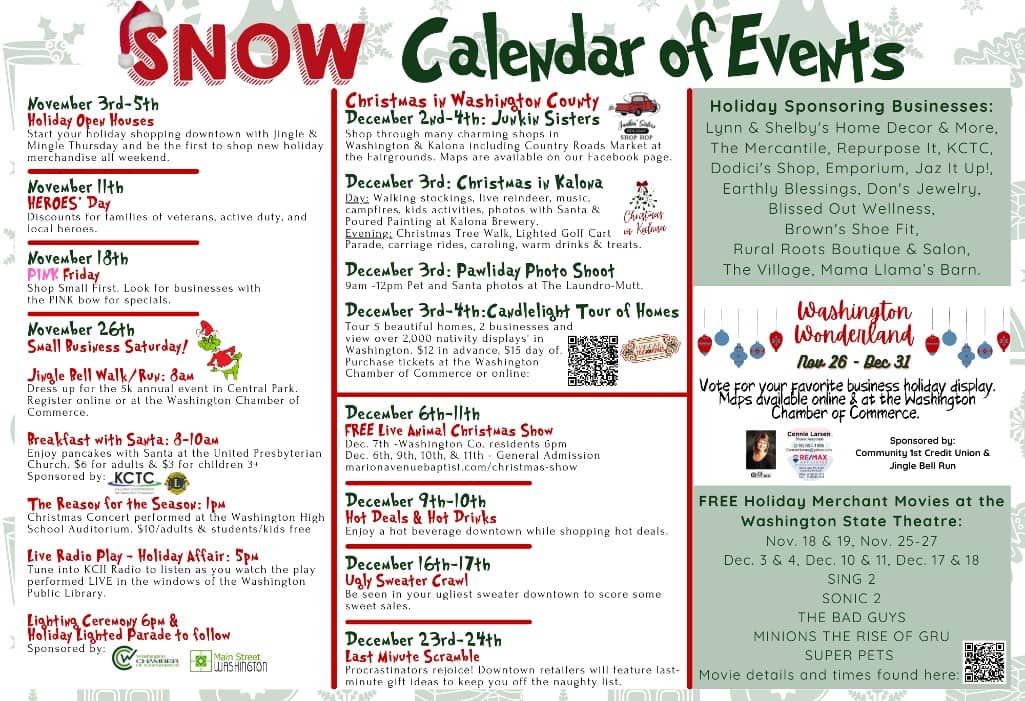 The rush to the festivities begins on Saturday with the main event of the Washington Snow Blitz. The day begins in Washington Square with the Ringing the Bell 5K Fun Run. Registration is at 8a.m. On JP 207 with the race at 9. Participants can choose between a mile walk around the square or a 5K through the town center and the Sunset Park. Registration is $25 for those 10 and older, $10 for those under 10. All are invited inside JP's 207 for prizes and awards after. KCII will broadcast live and dance with Big Red Radio from 8-10 p.m.
Breakfast with Santa is scheduled for 8-10 a.m. In the Presbyterian Church of Washington North America. The cost is $6 for adults and $3 for children. Pancake Breakfast with Santa is provided by the Washington Lions Club.
The Christmas season concert is scheduled for 1 p.m. At the Washington High School Auditorium. Cost is $10 for adults, students and kids are free.
At 5 p.m. The Washington Public Library will perform a production of this year's live radio Christmas Play, "Holiday Paradise." You are invited to enjoy the show through the windows of the library and tune in as it broadcasts live on AM and FM KCII from 5-6 p.m.
The following radio play is the middle ceremony at 6 p.m. As Santa Claus takes the stage at Washington Square, the band conch shell turns on the lights downtown and officially ushers in the Christmas season. The night ends with a holiday lighting parade around Washington Square after the ceremony. KCII will announce the parade live to residents on the street.
With all the activities, including Business Saturday, with many local businesses participating. This week, Main Street Washington Director Samantha Meyer spoke with KCII News about the work put in place for Saturday's activities, the full schedule and Saturday's Business. "Thanks to volunteers and a lot of patience. Lucky in this parish, we have plenty of both. Don Kline and Marianne Hanshaw, Main Street, probably just couldn't go out without those two! They're so fantastic and I've done it for so many years. The city has helped all the trees shine. The room is fantastic. Everyone getting along and supporting each other was amazing. Business Saturday really made our weekend. Many of them are signed up for our SNOW promo and have special activities. Really cool stuff. Many of them have giveaway days. We also have a scavenger hunt We're going to have it. All the stores that are involved in SNOW are going to have a kit that you can go to their store and find. They'll also have bingo cards that you initial once you find the kit. Then you drop your filled bino card into Santa's mailbox on the street at the fountain and big We will draw a prize winner who will receive a gift basket full of local goodies."
You can hear more from Meyer on today's Halcyon House Washington Page on-air and online at KCIIradio.com. A full schedule of Snow Blitz events is available at KCIIradio.com and at Washingtoniowa.gov.