The fascination for capturing "people of different cultures living their daily lives" is what inspires the work of the University Hawai'i videographer Jeff DePonte. A call to the pennants a International Lens Magazine for his issue of "Culture" led him to submit his street photography during a 2014 trip to Phnom Penh, the capital city of Cambodia. DePonte's work was selected along with nine other international photographers and featured in the October 2022 issue of Fine Arts Public Photography.
"Seeing my name up there with them I was surprised, it's really that low," said DePonte, who was at Uh Office of Communication since 2015.
With topics from Japan, India, Kenya and Cambodia, the 171-page gloss shines through, a collection of unique projects on ancient cultures and cultures around the world. DePonte's 14-page photo album titled "Roads Without Borders" features 20 black square photos taken during his nine-day trip and third visit to Phnom Penh. DePonte was there as part of a documentary film about the upcoming Light Orphanage and its founder Nuon Phaly.
"I set up the combinations that would define the work: one camera, one lens, black and white, square," he wrote in his artist statement. "Working as a photojournalist in Phnom Penh gave me a new frame of reference. The pursuit of social humanity is the same, whether the film is reality or stills.
With an extraordinary vision in the Ordinary
With his trusty Fuji X100 camera in hand, DePonte fully immersed himself in the city, taking pictures of people everywhere he went.
"The act of photographing on the street helps me to see the extraordinary in the ordinary, it helps me to experience a place more fully," he says.
Images of Phnom Penh include barefoot children on the streets and in the market, a motorcycle delivery, goldsmiths at work, an elderly woman smiling for the camera, Buddhist monks gathered in the Royal Palace and ladies working in the rice fields – a favorite in the DePonte collection.
"You see different emotions on his face (laughter, confusion, etc.)," ​​he considered. "As a street photographer, I had something emotional that says 'I fear you' without being spoiled.
DePonte said, "Experiencing Cambodia as a poor place will make you question what you will take home for granted in your own shelter. I find it empowering to observe the cultures of other countries. Photography can help us see what is right and normal, while portraying talent and abilities that are universal.
More about DePonte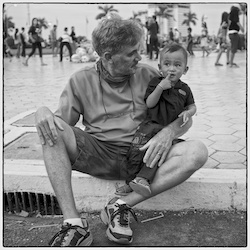 DePonte was a videographer at the Uh For seven years the Office of Communication has taken many stories and for . Uh News of the prodigious and the progress through Uh Reason
"I love situations where we go and are more or less part of the action, not just telling but being involved in the story," he said.
DePonte has more than 40 years of experience in photography and film production under his belt. He works on various photography and film projects, and in many areas KGMB–TV, from community relations to writer/producer/director, for 30 years. He is also the co-founder and president of Pipeline Digital, a Hawaii software company specializing in the power of videotape that has partnerships with multiple big-name technology companies.
He credits mentor and longtime Kamehameha Schools photo editor the late Luryier "Pop" Diamond for being a "big influence" on his photography when he was a high school student and colleague. DePonte accepted a counselor position at Kamehameha Schools upon his retirement in the 80s and was able to work with him for several years.
For more on DePonte, visit his website.